At our Germantown, Maryland office, we have Board Certified psychiatrists with extensive experience in managing a variety of conditions. Due to their strong background in working in different clinical and academic settings, they are able to formulate a diagnosis and start treatment promptly.
Call to make an appointment and learn how the board-certified doctors at Excel Psychiatric can help you today.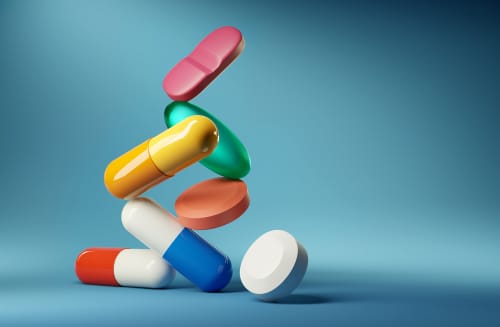 Frequently Asked Questions about Medication Management
What disorders can be treated with medication?
Medication are commonly used for depression, anxiety, bipolar disorder and psychotic disorders in addition to many others.
Who is the ideal candidate for medication?
Patients with symptoms that are persistent and affecting daily functioning can benefit from medication.
Will I encounter side effects?
Medication may lead to side effects at times. Your physician will discuss potential side effects and alternative options to help you with decision-making. After risk vs benefit analysis, a treatment plan would be devised.
How long will it take for the treatment to work?
Depending upon the medication it may be a few weeks before it starts working. Your physician would discuss with you what to expect during this time frame and how to manage the symptoms.
What if medication does not help me?
We can use augmentation/combination strategies or switch to a different type of medication. Other non-medication approaches can be used as well.
What is the typical treatment duration?
Depending upon the condition being treated, your physician will discuss the length of treatment. As there are many factors that go into deciding the time frame, an individual plan would be created for each patient.
Would I need follow up appointments?
If a medication is started, your physician would want to see you afterwards to assess for medication response and any side effects.
Is medication covered by my insurance?
Yes, most medications are covered by the insurance plans, however, you can always check with your insurance/pharmacy before filling a prescription.
How do psychiatric medications work?
Psychiatric disorders are known to cause neurotransmitter/chemical imbalance in diff parts of the brain. Medication typically works to restore this balance.
New mechanisms are being explored through research
Will these medications have any effect on the other medications I take?
Although most psychiatric medications are considered safe, our psychiatrist will review and discuss any potential interactions with you before starting any new medications.
Should I be concerned about effects of these medications on my medical conditions?
Our psychiatrists are experienced in dealing with any comorbid medical conditions and will make recommendations only after taking a thorough review of your medical history.
Would I be able to stop medication in the future?
This depends on many factors like the severity of symptoms and the goals of the treatment plan.  Your psychiatrist will discuss this with you during your visits. 
Are there any restrictions on activities while I take these medications?
When a medication is first started, it is recommended not to drive or operate heavy machinery until the effect of medication is known.
Will I need blood tests while taking medications?
Some medications may require monitoring of blood levels, urines tests, or other labs.  Your psychiatrist will order these as needed.